5 Reasons to Use Simple Health vs. Nurx

Simple Health
Published: February 1, 2018
Updated: May 18, 2020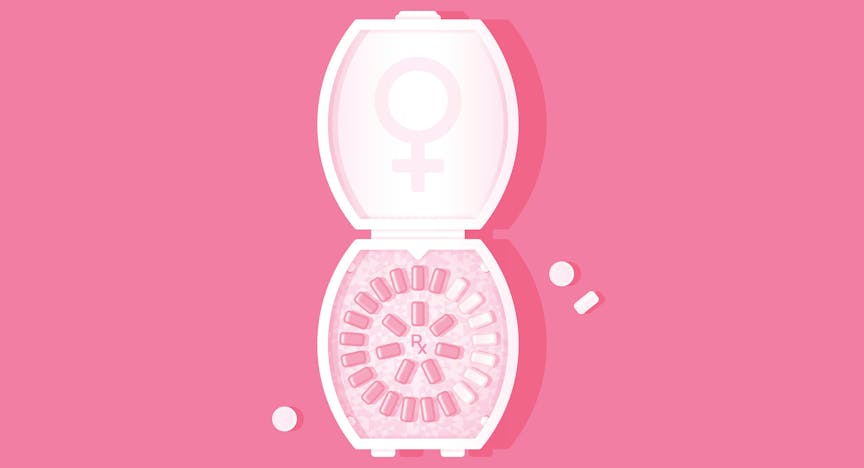 According to the CDC, an estimated 9 million women in the US use oral contraceptives as their preferred method of birth control. And they can probably all agree on one thing: taking birth control can be a huge hassle.
Whether it's setting daily reminders to take the pill, getting to the pharmacy to renew your prescription or one day discovering that you have run out of your monthly supply—staying on top of your regimen can be exhausting and overwhelming. But it shouldn't be!
Here at Simple Health, we've taken on the ambitious task of transforming the industry by making access to birth control more affordable and convenient. NURX, another online birth control brand you might have heard of, is pursuing a similar mission. However, there are a few things that Simple Health does differently:
1. Better user experience.
Simplicity is in our name and we embrace it every step of the way! From the moment you complete your initial consultation to the day you receive a shipment at your door, we keep our communication clear and transparent. Our website is easy to navigate and we offer a more focused range of products, unlike NURX, which offers various other products, causing confusion and frustration.
2. More choices.
Have a favorite brand that has worked for you in the past and would like to stick to it? New to birth control and don't know where to start? With over 100 brands (NURX only offers 50), we've got you covered! Finding a birth control brand that's right for you can be a struggle, but with the variety of options we offer, we're confident you'll be able to find something that fits your personal preferences and budget.
3. Detailed medical consultations.
Our online consultation is longer and more detailed for a reason. We want to learn as much as possible about your medical history and personal preferences so that our doctors can find a birth control brand that best suits your needs.
4. Risk-free.
If we can't issue you a prescription due to certain medical conditions (this rarely happens) or you change your mind, we'll refund your consultation fee. NURX, on the other hand, will keep your money even if they don't end up prescribing you anything.
5. Better health insurance coverage.
Both Simple Health and NURX are free with most insurance plans and start at $15 a month without insurance. But unlike NURX, Simple Health also works with integrated delivery network health plans.
Looking for a simple, convenient and affordable way to get your birth control? Try Simple Health and we will deliver it straight to your door.
Need a Better Way to Get Birth Control?
With online prescriptions and home delivery, never deal with the doctor's office or a pharmacy run again.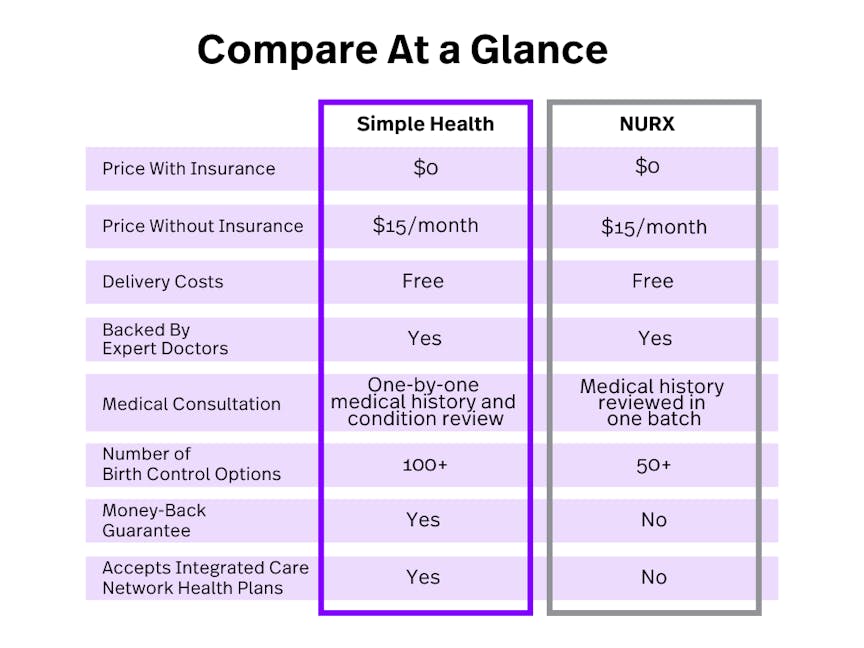 Birth Control, Simplified
We make getting birth control easy, affordable and way less of a hassle than it's ever been.

Simple Health
The Simple Health team is passionate about all things health. Follow along—we're just getting started.